Helping Donors On Their Path To Personal Philanthropy
We exist to Encourage Giving, Inspire Action and Improve Lives in South Georgia
Improving South Georgia.
Together.
We work with individuals, families and businesses like you to create funds that match your philanthropic interests.  We are your local partner for charitable giving.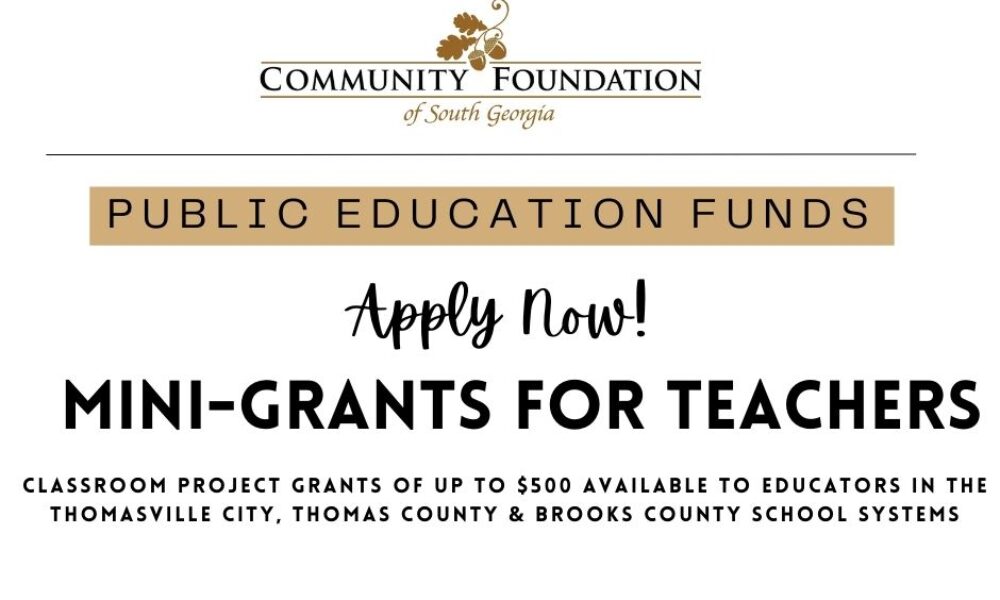 The time of year has come again for teachers within the Brooks County, Thomas County and Thomasville City School Systems to apply for mini-grants through the Community Foundation's Public Education Funds. Grants awarded will be up to $500 to be used for Spring 2024 classroom projects not covered by school budgets.
Deadline to Apply: Friday, November 3rd @ 12pm
"I consider the Community Foundation one of South Georgia's most strategic assets for the vitality and future of our region.  It connects the passion of givers to the purpose of nonprofits to achieve greater and lasting impact of charitable investments into our community.  It was an honor to serve on the CFSGA's board and I continue to look to CFSGA for advice and counsel in support of my personal and professional philanthropic efforts."

Currently Serving 35 Counties
Atkinson, Bacon, Baker, Ben Hill, Berrien, Brantley, Brooks, Calhoun, Charlton, Clay, Clinch, Colquitt, Cook, Crisp, Decatur, Dougherty, Early, Echols, Grady, Irwin, Lanier, Lee, Lowndes, Miller, Mitchell, Pierce, Randolph, Seminole, Sumter, Terrell, Thomas, Tift, Turner, Ware, Worth.
Community Foundation By the Numbers
IN 2022 WE CELEBRATED THE FOLLOWING MILESTONES
$101,197,602 IN 
TOTAL ASSETS
$12,990,303 In 
Grants Awarded
$221,828 In 
Scholarships Paid
Over $161 million In 
Grants Since 1996